5 Peak HP , 13 Gallon Oil-free Air Compressor



Part Number: WL6500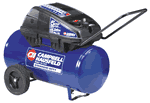 * Built-in accessory & tool storage for
a clutter-free workspace
* Easy to operate controls with descriptive
icons and oversized gauges
* Air delivery: 6.4/5.5 SCFM @ 40/90 PSI;
125 PSI Max; 120 Volts
* Maintenance-free oilless pump is protected
by durable plastic shroud
* Warranty: 1 Years

The WL6500, 5 Peak HP, 13 Gallon Oil-free Air
Compressor is easy to use and read. The
control panel gives you complete access to the
air pressure settings, it helps protect heavy-
duty gauge protection, and protects you from
the hot surfaces and moving parts. The
compressor tool and accessory storage helps
maintain a clutter-free workspace and keeps
your most frequently used tools together for
quick access.