5.5 HP engine driven, cart-mounted, portable air compressor



Part Number: WL5094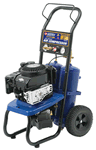 * Vertical cart with hose storage rack and
integrated control panel
* High output oil-free pump
* 2 - 2 gallon vertical tanks with 5.5 HP B&SŪ
gas engine
* Semi-pneumatic wheels
* Warranty: 3 Years

The WL5094, 5.5 HP gas-driven, cart-mounted,
portable oil-free air compressor, comes with
a 3-year warranty. This unique vertical cart
configuration was designed to eliminate 50%
of the "footprint" required by a traditional
wheelbarrow compressor. It comes equipped with
a durable 5.5 HP Briggs & Stratton gas engine,
giving you air power where electric power is
not available. The high output oil-free pump
and motor deliver abundant airflow without the
hassles of messy and time-consuming upkeep. The
control panel protects components while making
it easy to use and includes two universal
couplers. The integratd hose storage rack helps
eliminate tangled hoses and the semi-pneumatic
wheels tackle rugged terrain. The 2 - 2 gallon
vertical tanks provide an ample air reservoir
for extra storage at the job site. This compressor
configuration is an industry first, so get
yours today. Specifications - 5.5 HP, 6.3/5.1
SCFM @ 40/90 PSI, 125 PSI, 4 Gallon tank, weighs
83 Lbs.