7 Peak HP , 80 Gallon, Twin Cylinder



Part Number: VT7810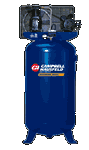 * This pump is the Big Brother of our
twin cylinder single stage - offers
30% more air than
* Oil Lubricated, Single-Stage Cast Iron
Pump for quiet operation and long life
* 15.6/13.7 SCFM @ 40/90 PSI, Max135 PSI
* Wired for 240 volts
* Warranty: 3 Years

The VT7810, 7 (Peak - 4 running) HP unit
wired for 240 volts. With air flow usually
found in two stage compressors, our" Jumbo"
pump offers exceptional value. This twin
cylinder, oil lubricated, is larger than our
regular design, and has an increased stroke
for more air delivery. It delivers up to 30%
more air at 90 PSI than most vertical single
stage units. For added value we've increased
the tank from the standard 60 gallon to an 80
gallon vertical and added an industrial wire
belt guard for added safety. These compressors
are made in the US - for quality construction.