4.5 Peak HP , 20 Gallon with Cast Iron Pump



Part Number: VS6231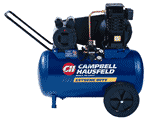 * Cast Iron single cylinder single stage
pump - for durability and long life
* 20 gallon horizontal ASME code tank - the
most popular portable tank size today
* Unit made in the US - 2 year warranty
quality construction backed by an extended
warranty
* Quieter operation than direct drive
compressors - less noise means you can work
closer to the unit
* Warranty: 2 Years

The VS6231, 4.5 Peak HP Oil-Lubricated, Belt-Drive
compressor has a cast iron, single cylinder pump
for extreme durability. The 20 Gallon horizontal
tank delivers 6.4/5.6 SCFM @ 40/90 PSI and the low
RPM pump promotes long life and quiet operation.
The VS6231 has a maximum pressure of 125 PSI.