Quiet Air, Portable Air Compressor with Tank and built-in gauges



Part Number: FP2003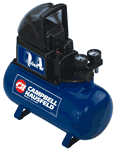 * Quiet operation pump and motor dramatically
reduce noise
* Easy to read gauges allow easy monitoring
of air pressure
* Retractable handle for quick portability
and simple storage
* Includes air chuck and 25 foot recoil air hose
* Warranty: 1 Years

The FP2003, 1 gallon, quiet operation air compressor
is designed for homeowners looking for the perfect
companion for inflation, brad nailing, stapling, air
brushing and more. The compact design, easy to read
gauges and retractable handle make this unit ideal
for around-the-house chores. At 18 pounds it can be
taken anywhere that has a 120 Volt plug. It's
designed with an automatic on / off pump, a 'Flip Up'
carrying handle, built-in tank pressure gauge and air
line pressure gauge.