10 HP, 120 Gallon Horizontal Two-Stage, 4 Cylinders



Part Number: TX2103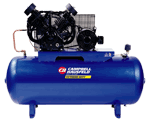 * Cast Iron Quad pump delivers 15,000+ hours
of life & reliable performance
* 37.6 SCFM @ 90 PSI and 100% duty cycle will
meet the needs of a small plant operation
* Prewired magnetic starter provides safe and
clean power while allowing a quick shop
installation
* 120 Gallon ASME tank provides an abundance
of air storage, allowing the pump and motor
to cycle less
* Warranty: 3 Years

The CI103120H, 100% duty cycle, and is designed
for the most extreme, multi-user pneumatic
applications. The pre-wired Magnetic Starter
allows you to safely & quickly install the needed
208-230, 460 Volt / 3 Phase power source. The
Two-Stage, pump uses splash technology to lubricate
the 4 Cast-iron cylinders and permanent molded
pistons. A precision balanced, fan-type flywheel is
heavily guarded by the metal belt guard as it
assists the crankshaft's smooth operation of a low
700 RPM. Its advanced head design has free floating
valves to reduce carbon build-up and a deep finned
intercooler with an interstage safety valve to protect
the pump from extreme PSI levels. Each pump is built
with oversized tapered roller bearings and an easy to
read oil level gauge. The Dual Industrial Air
Filter/Silencer is fitted with replaceable cartridges.
Our 3 YEAR warranty is the best in the industry on an
ASME certified tank.