7.5 HP, 80 Gallon Vertical Two-Stage, w/ Mag-Starter



Part Number: TF211201AJ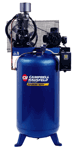 * Cast Iron pump delivers 15,000+ hours of
life & reliable performance
* 27.2 SCFM @ 90 PSI and 100% duty cycle
meets all air tool demands, including air
sanding
* Prewired magnetic starter provides safe
and clean power with a safe shop installation
* 80 gallon vertical ASME tank provides an
abundance of air storage while using minimal
floor space
* Warranty: 3 Years

The CI071080VMSA, 100% Duty Cycle, Two-Stage
Air Compressor provides impressive power while
using minimal shop space. The pre-wired Magnetic
Starter allows you to install the needed 230
Volt/1 Phase power source safely. The Two-Stage,
pump uses splash technology to lubricate the 2
Cast-iron cylinders and permanent molded pistons.
A precision balanced fan-type flywheel assists the
crankshaft for smooth operation while maintaining
the low 1020 RPM. Its advanced head design has a
deep finned intercooler with an interstage safety
valve to protect the pump from extreme PSI levels.
Each pump is built with heavy-duty ball bearings
and an easy to read oil level gauge. The three year
warranty is the best in the industry on an ASME
certified tank.