Cut-Off Tool - Ergonomic design - 20,000 RPM



Part Number: TL113500AV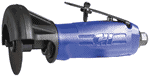 * Safety-lock mechanism prevents accidental
start-ups
* Adjustable exhaust diffuser for quiet
operation and extra safety
* 1/4" NPT (screened filter) air inlet keeps dirt
and debris from damaging the tool
* Patented ergonomic body with thermal isolator
for continuous use
* Warranty: 1 Year

The TL1135, Cut-Off Tool has a patented ergonomic
body with a light weight engineered composite housing
that makes your work easier and more and enjoyable.
It includes 1 cutting disc that cuts through 1"
diameter steel rods, fiberglass, copper/aluminum
tubing, and angle iron up to 1/2". It's great for
do-it-yourself projects, producing 20,000 RPM.