Campbell Hausfeld - Portable Generator



Part Number: GN6031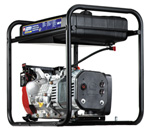 - 6000 Watt Generator: Featuring an 11HP Briggs
& Stratton Vanguard OHV engine with cast iron
sleeve, low-oil shutoff and idle control. 7 gallon
fuel tank. 7200 surge watts. 3 outlets. Runtime of
13 hours at 50% load. Weight: 187 lbs. Not for sale
in Canada (not CSA-approved). 3-year product warranty.