Briggs & Stratton Power Products 5500 Watt Home Generator System



Part Number: 1677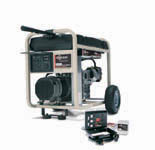 - The Manual Home Generator System allows for a quick and
reliable transfer of 5500 watts of power to as many as 6
pre-selected household circuits. Simply plug the generator
into the all-weather power inlet box, start the generator
and go to the installed Cutler-Hammer transfer switch to
turn on the circuits you need. Provides up to 12 hours of
uninterrupted run time (at 1/2 load), and has a fold down
handle for easy storage and mobility.