Generac Power Boss Handyman-Plus



Part Number: 1649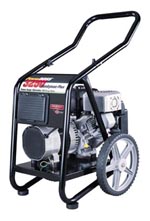 - Long Lasting, Fuel Efficient 6.5 HP
Briggs and Stratton GenPower overhead
valve engine. Overhead Valve design
provides long engine life, better fuel
efficiency, and quiet operation. Power
Surge Alternator generates greater
surge wattage for starting multiple
motors. Command Central Control Panel
provides outlets and circuit breakers
in one location. Includes four 120 volt
standard household outlets. Extra large
14 inch semi-pneumatic wheels make mobility
easier. Lo-Tone muffler maintains a low
noise level. 2 year warranty.